SPECIAL SECURITY UPDATE FOR BUSINESSES OPERATING IN MYANMAR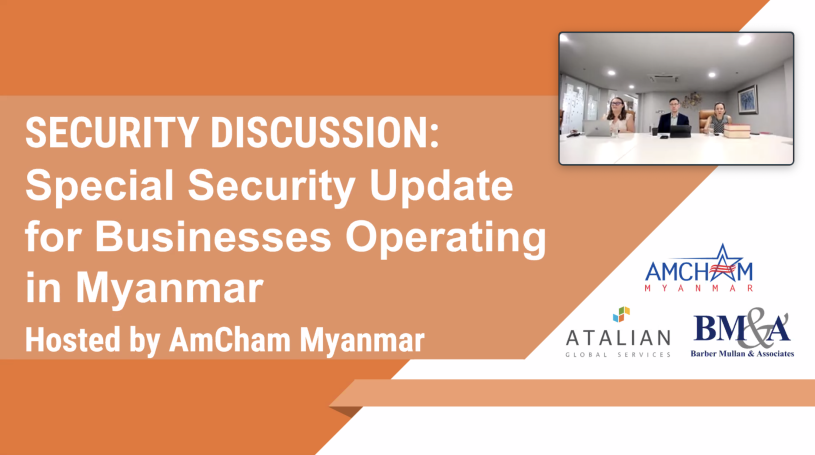 On June 7, AMCHAM Myanmar hosted a special panel briefing on the security situation in Myanmar with a special emphasis for businesses operations in Myanmar. Topics covered included the overall security condition in Myanmar. This was our fifth installment in our series on security issues for businesses operating in Myanmar and is one of our most-popular programs.
We are very thankful to our expert speakers:
Adam Castillo, Managing Director of Atalian Global Services Myanmar,
Jason Tower, Burma Country Director of United States Insitute of Peace, and,
Gwen Robinson, Editor-at-Large at Nikkei Asia
for sharing a rich briefing on the current security situation in Myanmar and taking questions from our members on this complex set of issues.
With this webinar, we also launched a new member-to-member offer, courtesy of Adam Castillo and ATALIAN Global Services Myanmar. Members are eligible for a discount on security reporting and Corporate Partners are eligible for a greater discount. Please contact us if you would like to take up this member-to-member offer.  
This webinar was made possible in part by support from The Urban Office. We are thankful to The Urban Office in Bangkok for hosting our distinguished panelists and for providing our location for the presenters based in Bangkok. AMCHAM Myanmar members passing through Bangkok for business and are in need of a temporary business center or co-working space should contact the Executive Director or the AMCHAM Myanmar office to collect a free day pass for use at The Urban Office's co-working spaces @ BTS Phrom Phong and BTS Phra Khanong.