AMCHAM Myanmar
The American Chamber of Commerce in Myanmar (AMCHAM Myanmar) was established on October 31, 2013. To date, more than 130 companies employing over 10,000 Myanmar nationals have joined the Chamber. These companies represent a diverse collection of industries and nationalities, with a common goal to expand American business and promote the highest business standards in Myanmar.
AMCHAM Myanmar was registered with the Myanmar Directorate of Investment and Company Administration (DICA) in September 2017 under registration number 115666037. We are a not-for-profit organization. 
Mission
The mission of AMCHAM Myanmar is to promote and connect American business in Myanmar by encouraging local partnerships and upholding the highest business standards.
Purpose Statement
The voice of American business in Myanmar. 
Objectives
Promote U.S. business investment in Myanmar  
Provide a unified voice for American business to engage with U.S. Government
Encourage American business to collaborate with companies in Myanmar  
Communicate opportunities and realities on the ground for businesses interested in the Myanmar market 
Facilitate capacity development by sharing best practices and encouraging corporate social responsibility  
Code of Business Conduct
AMCHAM Myanmar is a non-partisan, non-profit business organization. We advocate the principles of free trade, open markets, private enterprise, the unrestricted flow of information, and ethical business practices. 
It is fundamental to our philosophy that good ethics and good business are synonymous. We believe that American business plays an important role as a catalyst for positive social change by promoting human welfare and the principles of free enterprise. AMCHAM recognizes that American companies already set the highest standards for ethical business practices.
We encourage members to communicate information about their existing programs and practices relative to good corporate citizenship in the markets in which they operate.  
AMCHAM endorses the following values:
Compliance with all applicable laws
Good corporate citizenship
Respect for the individual and dignity of the worker
Training and education for our employees
Environmentally responsible business practices
Improved market access and promotion of intellectual property rights
High standards of professional and business ethics
Equality between all members without any gender, religious, or political discrimination
Refrain from using the AMCHAM platform to promote any partisan political agenda
U.S. Chamber of Commerce Accreditation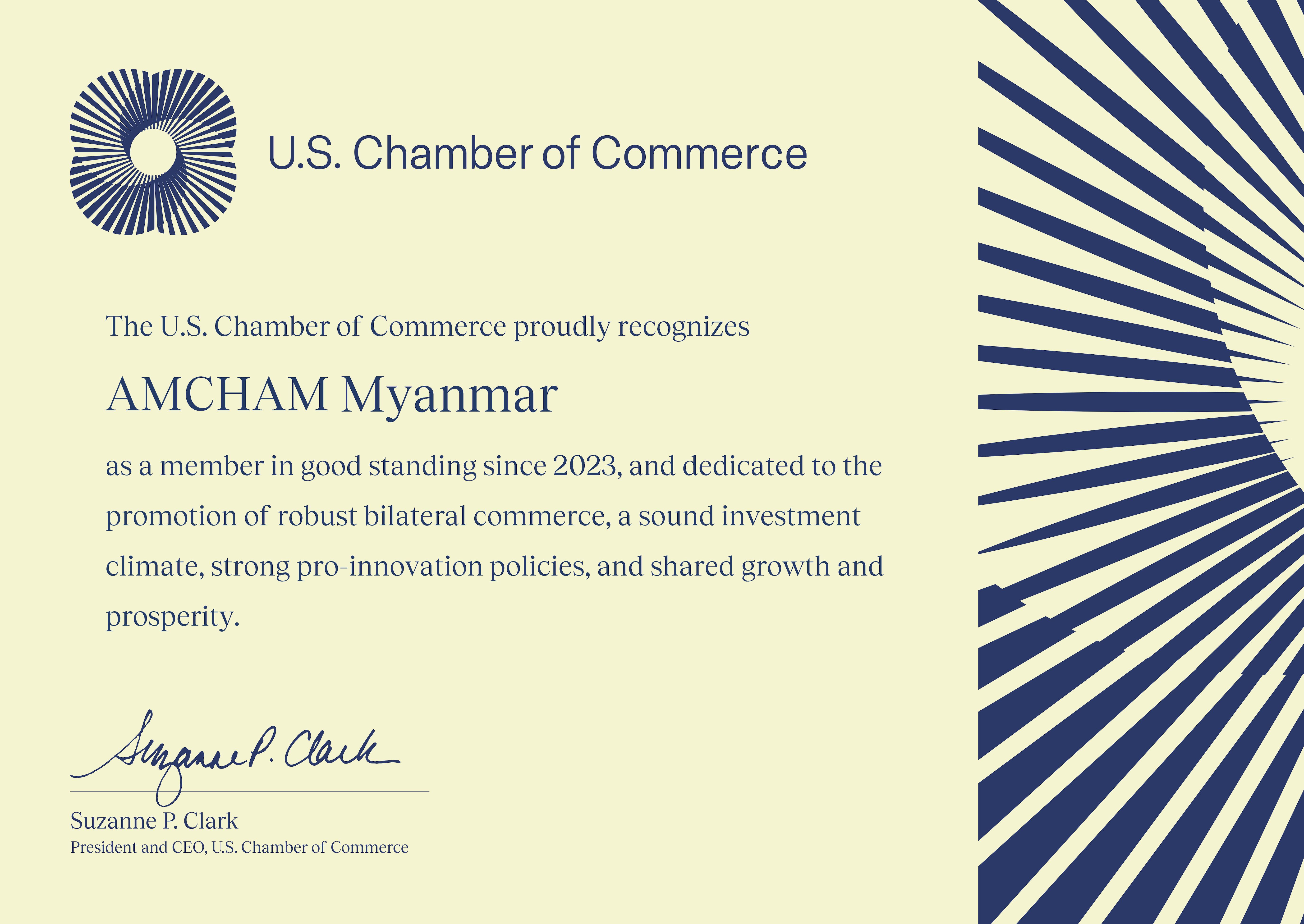 AMCHAM Myanmar has been accredited by the U.S. Chamber of Commerce since August 31, 2023. Click here to view the full message from our President regarding this accreditation. 
AMCHAMs of the Asia Pacific
AMCHAM Myanmar is a proud member of AMCHAMs of the Asia Pacific. 
Promoting Trade and Investment between United States and Asia Pacific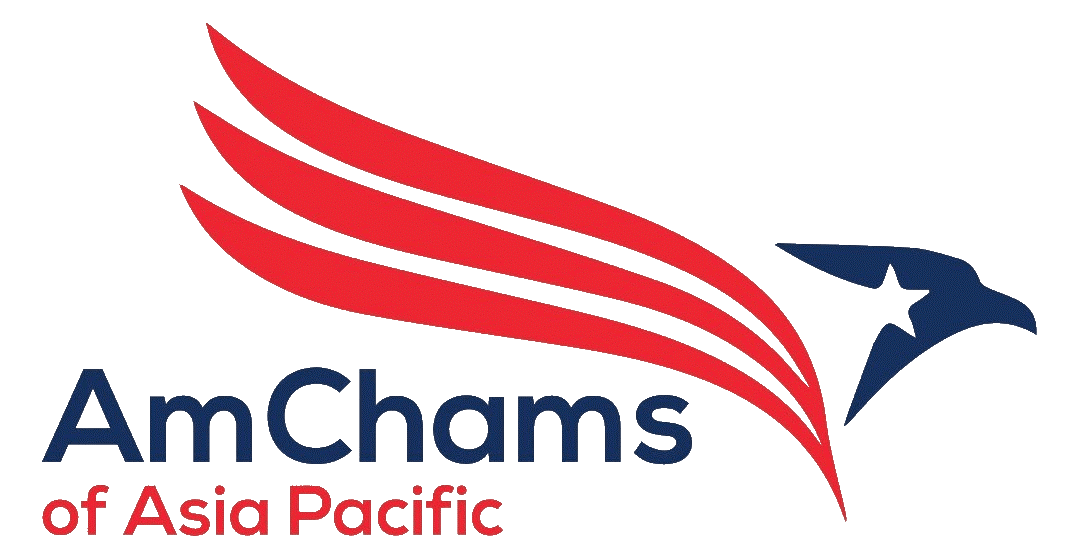 The AmChams of Asia Pacific is an umbrella organization of 28 American Chambers of Commerce that promotes trade and investment between the Asia Pacific region and the United States. Founded in 1968, the AmChams of Asia Pacific represents the shared interests of US and international businesses that employ millions of people across the region and includes some of the world's biggest manufacturing and trading entities.