(Position Filled) Deputy Head of Credit Management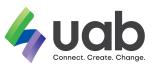 The Deputy Head, Credit Management Dept will manage the credit risk across Corporate, Commercial and Retail lending activities. He/She will ensure quality of credit underwriting and compliance with credit standards and norms.
The candidate will have a strong understanding of all aspects of bank lending ranging from loan origination, underwriting, security documentation and loan administration.
Requirements
Bachelor's degree or professional qualifications in Accounting or Business
7+ years in credit experience
Strong verbal and writing skills in English
Able to operate within the Credit Policy and appetite of the Bank
Proven record on managing a team of credit professionals
Apply with your CV to careers@uab.com.mm.
Please ensure that you state "Deputy Head of Credit Management" in your email and state your preferred city.
uab bank is an equal opportunity employer.