Head of MSME (Micro, Small and Medium Enterprises)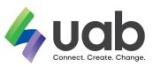 The Head of MSME Department is responsible for managing the overall strategy and operations of the MSME Department of the Bank. He/She will be responsible for managing a portfolio of Micro, Small and Medium-sized Business customers, ensuring exceptional customer service, providing leadership and guidance to the team, and driving business growth while ensuring compliance with relevant regulations and policies.
Responsibilities 
Lead the MSME Department team in managing a portfolio particularly to small and medium-sized businesses, developing business relationships and ensuring excellent customer servic 
Develop and implement a strategic plan for the MSME Department to achieve business objectives and financial target 
Provide guidance, coaching, and leadership to the team, ensuring that they are highly motivated and working effectively to achieve their individual and team goals 
Ensure that credit policies and procedures are followed, and all lending decisions are made in accordance with the bank's credit policies and procedures 
Build and maintain relationships with key stakeholders including internal departments, regulatory bodies, and external stakeholders such as professional bodies and industry associations 
Ensure that the MSME Department meets all regulatory and compliance requirements 
Identify and manage risk in the associated with the sector. 
Requirements 
Bachelor's degree in business administration, Finance, Accounting, or related field. Master's Degree in a related field is an advantage 
At least 7-10 years of experience in banking or related financial services, with a minimum of 5 years in SME lending and credit risk management 
Experience in managing teams and developing staff 
Strong knowledge of credit risk management and credit analysis. 
Excellent communication and interpersonal skills with the ability to build and maintain strong relationships with key stakeholders. 
Strong analytical and problem-solving skills. 
Ability to work independently and under pressure. 
Familiarity with relevant regulatory requirements and compliance.
Apply with your CV to careers@uab.com.mm.
Please ensure that you state "Head of MSME" in your email and state your preferred city. 
uab bank is an equal opportunity employer.
For Job Description & Qualifications, please read more at our website: https://www.uab.com.mm/join-uab/head-of-msme-department/.